The Immense Gargantuan Crime Wave that is the EPICENTER of the Global Black Bag Operators ….  Dirty Deeds  are  NOT CHEAP
Quantitative Easing an Amazing World of  Smoke and Mirrors
The
Great
Texas
Bank
Job
Excerpts from 1999 –  12  years  BEFORE  Anon and Occupy 
United Press International   You Left So Much Out of the Story
The Law of Origin  /   What Goes Around Comes Around
           This  Letter has  ALSO  Been  Sent  to  United Press International.   They Have  NEVER  Published  MY WHOLE STORY …..  There are  TRILLIONS  of  Reasons   UPI  Should  always  follow up on  STORIES.        JBW    
For Robert Tosh Plumlee 
🙂 https://archive.org/details/AV_329-THE_SECRET_TEAM
329. THE SECRET TEAM Lanny Sinkin and Father…
Sep 21, 2014 – Summary. The average bank robbery nets $7,500, but the really scary thing is when CEOs use dishonest accounting to claim record profits and defraud the economy as a whole. The last time this happened it cost $11 trillion and 10,000,000 jobs were lost. The common 'recipe' for this style of fraud is easy to …
William Black is a former bank regulator who's seen firsthand how banking systems can be used to commit …
Nov 25, 2011 – The following is a transcript of a recent speech given by Professor William Black on an Economics Panel regarding the fradulent roots of our current crisis and the urgent … If you look at just losses in the household sector, it is $11 trillion. …. William Black: Why No One Went to Jail During the Credit Crisis.
See
Land  And  Loot
The  Quixotic  Joust   A  Great  Background from a Harris  County  Prosecutors  Perspective
Linda  Minor  and  Cathryn  Austin Fitts,  Richard  Bowen,  Professor Black   MANY MANY MANY MANY   Know  Now  Ole  Judson is  NOT   CRAZY
http://web.archive.org/web/20010812232315/http://www.geocities.com:80/jurisnot/quid_pro_quo_in_actiontgtbj.html
Sending  copy to  Former  US  Secret Service Agent   SAIC   Rick Williams
Sending Copy to
KAT WOOLFORD  Bank Liquidations  FDIC /  Carlyle Group / Bearing Point /  USAID / IMF
SENT TO  THE  US  SENIOR FEDERAL COURT JUDGE  OFFICES
TRILLIONS Looted Judge Hughes TRILLIONS
Friday Night Info Marathon with Randy Kelton and Steve…
Dear  Judge  Lynn Hughes,
  Former  Houston  US  Secret Service  Agent  Rick  Williams  currently works  as  Chief of Security at Connoco  Phillips  Oil  in the  Woodlands.   As  You know  Judge  Hughes  the  Octopus  Operations  all over  Harris and Montgomery County has left a  HUGE  and  SMELLY  Trail  of  Iran Contra  and  Charlie Wilson's  War  all over  Texas.
Huge numbers of  Witnesses  and  Media  including  Roland Carnaby's  Family  and  Secretary of  State  James Baker  with  JoAnna King  and  the  Iran  Contra  BLACK BAGGERS  of  Big "H"  and  Little  "W"  Bush  and  the  Mena  Clinton  Mobsters  used  Houston as  Their  Private  BORDELLO  with the  most famous  Weapons Traffickers in American History.   Clark  Clifford  and  Roger Altman and Oliver North and  the  Admiral Secord,  Casey,  Poindexter  CARTEL OF BLACK BAG OPERATIONS  were something  ROLAND CARNABY  Et Al  and  JoAnna's  Crowd  with Secretary of  State  Jame's Baker,  THE HOUSTON POST  and  HOUSTON  CHRONICLE  just could  NOT keep  SECRET.
The Records  of  the  Houston  Federal Court  reveals  I WAS  TARGETED  and  LIED ABOUT  hugely  by   FORMER   Houston  FBI   GOON  …..  Agent  John Connolly  of  the  Whitey Bulger /  Winter Hill  Gang  Flavor.   The  FBI  Goof  Ball  that ACCUSED  ME  on  November 18th  1985  is  Serving  Life In Prison for  Many  Murders  and  Money Scams  He was involved in.   SEEMS  Operation  Lonestar  went  ROGUE  and  WILD  after the  Sharpstown  ….  Rent A Bank  Scandals  ……   EXPLODING  into the  Banking  and  S&L  Schemes  of  the  1970s  and 1980s  and 1990s  …..  YOU KNOW  Todays  Missing  Vanished  TRILLIONS.
    This is  a  Letter I sent to the  Houston  Chronicle  Today.   A  FRIEND  HAS  ASKED  THAT I HAVE  MY  ARREST  RECORD  EXPUNGED  REGARDING   The  BLANKET PARTY  HOUSTON  FBI  Tried to  Throw  for  Me  in 1985.   In closing  Judge  Hughes  …..  Magistrate  Lingo  Platter  knew  very well  as  does  FORMER  US  SECRET SERVICE  AGENT  RICK WILLIAMS  …..  Many  Trillions  Seem to  Have  VANISHED  ……   Harris  County  Style.    I'd  like to  have  My  FBI /  SECRET SERVICE  Arrest  EXPUNGED.
Thank You
JUDSON  WITHAM
The Montgomery County Whistle Blower  (  Ask  NELDA  LUCE  annd  BARB  SADLER  ) 
PAY  VERY  CLOSE  ATTENTION   JIMMY  DOZIER
and  DAVID  WALKER /  MARCUS  WINBERRY
The 23  TRILLION   RESERVE NOTE  LIE
Mueller,  Comey, Trump, Sessions and  Wray ….  JEANIE  IS OUTTA THE BOTTLE
EVIL MONEY unveils a world-wide underground economy linking drug cartels, terrorists, and even legitimate governments and businesses, threatening to undermine ….. In addition to cocaine. that thecorruption of drug wealth has successfully penetrated business and government elites. they continue their role in providing …
FBI  AGENT  Harreal  Blackshear  Bank President
From  Zurich to London, Dubai, Saudi, Panama to Houston
The  OFFSHORE  BLACK BAGGER  CARTEL/s
YouTube and Google  Destroyed and Removed tons of materials from the 80s and 90s
United Press International   You Left So Much Out of the Story
THE  TRUTH  IS  LOOSE
The Nation and World Robbed Stupid Using Dirt Deals and Flipping The Bankster Gangsters Exposed AMERICA The SWAMP IS WAY WAY WAY WAY BEYOND YUGE ……. THE ACTUAL REAL GENUINE REAL HISTORICAL RECORD Good Ole Harris and Montgomery County Texas …… LOTS of FUN FACTS I got Kicked …
SwampFox

<notjuris@gmail.com>
HOUSTON CHRONICLE  /    CONROE  COURIER
ABC,  CBS,  FOX,  NBC,  PBS
     So  lets  see  …..  IRAN  CONTRA,    The   Clintons ,   Oliver North and Secord,  Bin Ladins  and  what  Charlie Wilson, Roland Carnaby  and  the   Poidexter, Casey  Crew  with  JoAnna  want to   COLONIZE   Afghanistan.     Hmmmmmm   Interesting  Stuff.
Maybe the  Chronicle  and  Lise  Olsen  wants to  explain what the  BUSH's   Houstonian Estates  Suite  Played.   You Know  the  OPERATION LONESTAR   Gang  of  Clinton ….  BUSH 
https://americalooted.wordpress.com/americas-never-ending-crime-spree/
      Make  Certain   NELDA  LUCE  and  BARB  SADLER  with   Former  US  Secret Service  Agent  RICK WILLIAMS  (  Conoco Phillips Oil  WOODLANDS )   and 

Huntsville  Attorney  Bill  Gammon

  and  Sheriff Rand  Henderson  KNOW …..  The  CAT's  OUTTA  THE  BAG
Resting hard on the western edge of the Southern Pine Forest, the Big Thicket has been called "the biological crossroads of North America," the intersecting point … Houston Congressman George Bush, the GOP nominee for the Senate seat, upped the ante by calling for a 150,000-acre park and introducing a House bill to …
As we know, Milken and some of his closest associates, in league with the BCCI enterprise, perpetrated the "bust-outs" of numerous savings and loan banks, ….. Felix, through Russian intelligence, was prepared to cut a deal with Osama bin Laden, but the CIA balked when Klotsman demanded that the U.S. government pay …
The  Saudis  and  Clintons  ….   The  State Foundation  Gate
Look  Hillary Wearing Her  SMART GLASSES …..  Built In Digital Displays  Oh My
PAY TO PLAY  IS  THE  BUSH  OBAMA CLINTON WAY
The  Digital Display ….   SMART  GLASSES
The  Mega  Fortunes of  the  American Political Elite  and  Saudi Owned

WESTERN BANKS
Bill Clinton and George W. Bush are implicated in Covering up Saudi Involvement in US Terror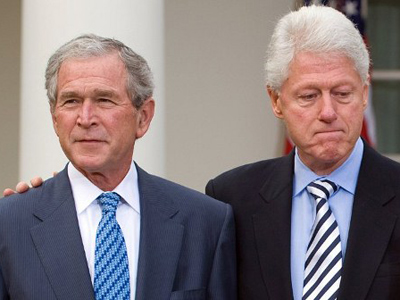 by- TIM BROWN
"Foreign influence is one of the most baneful foes of republican government… "spirit of party opens the door to foreign influence and corruption, which finds a facilitated access to the government itself through the channels of party passions. Thus the policy and the will of one country are subjected to the policy and will of another." –George Washington's Farewell Address
The recently declassified 28-pages of the 9/11 report are undergoing a lot of examination. As a result, Ryan Mauro at ClarionProject.org is convinced that both Presidents George W. Bush and Bill Clinton are implicated in Saudi Arabia's Involvement in terrorism in the united States.
Page 11 of the documents states:
"Prior to September 11th, the FBI apparently did not focus investigative [censored]…Saudi nationals in the United States due to Saudi Arabia's status as an American 'ally.'…A representative of the FBI's [censored] testified in closed hearings that, prior to September 11th, the FBI received 'no reporting from any member of the Intelligence Community' that there is a [censored] presence in the United States."
Mauro writes:
The censoring of the documents leaves us to wonder what specific terror-related presence the documents are referring to, but it is very clear that it is a network linked to the Saudi government and insufficient investigative resources were allotted for it because of those linkages.
…
The Bush Administration was in office for only 9 months, but cannot be absolved of blame. The files do not indicate that any change in direction was ordered before the attacks and it chose to classify the pages exposing the Saudis in the 2002 report.
The Bush Administration also opted not to blacklist two terror-tied organizations with strong Saudi ties: Muslim World League and International Islamic Relief Organization. The former also has strong links to Huma Abedin and her family, one of the closest advisers to Hillary Clinton.
Perhaps that decision has something to do with the Saudi ambassador to the U.S. at the time, Prince Bandar bin Sultan, who was so close to the Bush family that he was nicknamed "Bandar Bush."
Mauro also points out that George W. Bush "was actually scheduled to meet with representatives from the Saudi-linked Muslim Brotherhood network on the very day of the attacks, September 11, 2001."
He also reminds us that Prince Bandar's wife paid $74,000 for "nursing services" to the wife of a Saudi intelligence officer who has been linked to the 9/11 hijackers. Copies of the checks, which dated from February 1999 to May 2002 have been found by the FBI, but they say such services were never rendered.
The Bushes are not the only ones to blame in this matter. Bill Clinton had two terms to deal with the Saudis and their connections to terrorism, but failed to do so.
These revelations should be brought to the forefront in the current presidential race since it is Clinton's wife who is now running for office when she should be summarily indicted, tried, found guilty and hanged for treason, along with her husband and a plethora government accomplices in both the House and Senate.
The Foreign Agents Registration Act is led by a major Democratic Party financier, the brother of Hillary Clinton's presidential campaign manager. This terror-tied organization receives $140,00 per month by the Saudis. The website indicates that 14 active foreign agents of Saudi Arabia are listed.
The question should then arise, why do we not only allow such spineless and weak men to represent us, but also, why we have any relations at all with Saudi Arabia? As a final question, I ask, why have we not gone to war with the Saudis over their involvement in 9/11?
Run the  Swiss  Enland and Saudi Arabia / Dubai  and  Global Networks  associated with   WESTGATE INVESTMENTS …..  RLG  HOLDINGS  ,  ATOS  ORIGIN,   KPMG  FINANCIAL ,   BROWN AND ROOT,   KBR / PULLMAN KELLOGG /   PRICE WATERHOUSE   COOPERS LYBRAIN ,     USAID  and  CARLYLE  GROUP /  BEARING POINT  oh  and  the  DIA,  CIA  and  NSA
The  Foundation  DOD  State Department
Clinton Campaign
Aug 20, 2016 – The Clinton Foundation has accepted tens of millions of dollars from countries that the State Department — before, during and after Mrs. Clinton's time as secretary — criticized for their records on sex discrimination and other human-rights issues. The countries include Saudi Arabia, the United Arab …
Aug 25, 2016 – That the Clinton Foundation has done some good work is beyond dispute. But that fact has exactly nothing to do with the profound ethical problems and corruption threats raised by the way its funds have been raised. Hillary Clinton was America's chief diplomat, and tyrannical regimes such as theSaudis …
Oct 12, 2016 – Saudi Arabia and the U.S. have maintained their alliance for seven decades despite disagreements over oil prices, Israel, and, more recently, the Obama administration's rapprochement with Iran. Judging by a 2014 email purportedly written by Hillary Clinton to John Podesta, her current campaign …
Nov 4, 2016 – Wealthy officials from Qatar and Saudi Arabia who donated money to Hillary Clinton'scharitable foundation also provided financial support to Isis, WikiLeaks founder Julian Assange has claimed.
Of course, documentaries like Fahrenheit 9/11 have covered the cozy relationship between the Bush family and the Saudi royals (and the bin Laden family). But what is less well known is that there are deep ties between the Clintons and the Saudis as well. In fact, there are so many connections to the Clintons, it's hard to …
Jul 7, 2016 – It's now possible to look up donation amounts on the Clinton Foundation's website. Using Trump's Saudi Arabia example, Saudi Arabia shows up as having given between $10 million and $25 million since the foundation started. When it began in 1997, the foundation's main goal was to build theClinton …
Claim: 
Hillary Clinton has been given tens of millions of dollars by countries that "treat women horribly … and countries that kill gays."
Aug 31, 2016 – If I told you that Democratic Party lobbyist Tony Podesta, whose brother John Podesta chairs Hillary Clinton's presidential campaign, is a registered foreign agent on the Saudi government's payroll, you'd probably think I was a Trump-thumping, conspiratorial nutcase. But it's true. The lobby firm created by …
Oct 11, 2016 – A recently leaked 2014 email from Hillary Clinton acknowledges, citing Western intelligence sources, that the U.S.-backed regimes in Saudi Arabia and Qatar have supported ISIS. "We need to use our diplomatic and more traditional intelligence assets to bring pressure on the governments of Qatar and …
Nov 6, 2017 – The Clinton and Bush era of the last 30 years is about to come to an end in light of the sudden Saudi Arabian purge of Clinton and Bush allies. Brazile's book "Hacks: The Inside Story of the Break-ins and Breakdowns that Put Donald Trump in the White House" contains several bombshells, including that …
The  EMAIL  To  Judge  Hughes  Court in Houston
SwampFox

 

<notjuris@gmail.com>

4:20 PM (1 minute ago)

to 

Kathy_L_Grant

, 

LNH

, 

Glenda_Hassan

, bcc: 

vicki

, bcc: 

Sarah

, bcc: 

georgia

, bcc: 

Carol

, bcc: 

billie
Dear Judge Hughes,
      Back in the  1980s  I undertook efforts to  EXPOSE  gargantuan  S&L  and  Bank Lootings  in  Texas and across  the  United States,   That effort ULTIMATELY  Prevailed  and  the  S&L /  Banking  Debacle  was  exposed.
      Subsequently  VAST SUMS of  Money has as well been looted in  a  LARGE  series of  Other Scams and Schemes  costing US Taxpayers  TRILLIONS.
      When I began My Whistle Blowing   in  Houston   UNBEKNOWNST  To Me   large scale  BLACK OPERATIONS  were ongoing  out of  515  and  the  Houstonian Residence of  Vice President  george Bush  to  SECRETLY  Finance and Move  very large amounts of  Weapons all over the World.   Today I believe  Hillary and  Bill Clinton  and  the  Obama State department have once again  engaged in such activities.
      In the 1980s  I was  FALSELY  ARRESTED  using an INFORMATION  COMPLAINT that Former US  FBI AGENT  JOHN CONNOLLY  orchestrated.   Former FBI Agent Connolly  is  serving  LIFE IN PRISON  for  the  Crimes He engaged in with Whitey Bulger and the  Winter Hill Gang.
      I was  NEVER INDICTED  and  NEVER TRIED  and  Never was  any Jury Verdict of  NOT Guilty returned against Me.   Magistrate Lingo Platter  sent Me  HOME to My Family  as  A  Fuller Investigation Revealed …..  I was  NOT  Guilty of  the  False  Charges  against Me in the  Information  by the  FBI there in Houston.
      I have PUBLISHED  Much about these matters  on the  Net  by  Using this  letter as  the  BASIS  for  the  Request  that My  Arrest record  of  November 18th 1985  Be  EXPUNGED.   The Arrest  was  on a  Flimsy as Flimsy can be  INFORMATION   33  Years Ago  and the  MULTI TRILLIONS  in  Looting have  since been  EXPOSED.
      I am thinking  the  ENORMITY  of  the  Houston Based  Involvement  with  S&Ls  and  BANKS  in connection  with My Story is  certainly  RELEVANT  and  MITIGATING.    I would  Like  The  WHOLE  Story of  My  False  Arrest  to CLEAR UP  The  Matters  regarding    THE  FBI's   FALSE  TALES  ABOUT  ME.
Thank You
Judson Witham
See   ALSO
SOME HISTORICAL PERSPECTIVE FROM 1999 

 
The site that the email was copied from is here:
Jokes: What is the difference between Colombian Drug Cartels and the Justice Departments?
Answer: One deals drugs. and the other laws
Links to The American Patriot's Resource Network
---
Broken Promises,  Broken Dreams, the Death of Liberty in America
—–Original Message—–
From: David Crockett Williams [mailto:[EMAIL PROTECTED]]
Sent: Friday, October 29, 1999 2:12 AM
To: [EMAIL PROTECTED]
Subject: Re: [CIA-DRUGS] Restoring The Bill of Rights One Website at a Time

Brian, can you post the website address of this post?  My system couldn't handle the 94K file and run it properly but I could likely access it with my browser.
s in Texas [ Follow Ups ] [ Post Followup ] [ THE FORUM ] Posted by Judson Witham on April 14, 1999 at 19:26:13: On May 20, 1931 in an EMERGENCY session of the Texas Legislature Hous
-Caveat Lector- If the other stories Judson Witham reported are as full of crap as his belief that the sl scandal of the 80's was caused by development of colonias, he deserves to be in DEEP CRAP. That may have been part of it, but not the major part. Linda Minor from: http
-Caveat Lector- Begin forwarded message:From: judson witham [EMAIL PROTECTED]Date: August 24, 2006 9:32:14 AM PDTTo: [EMAIL PROTECTED], [EMAIL PROTECTED]Cc: [EMAIL PROTECTED], [EMAIL PROTECTED], [EMAIL PROTECTED], [EMAIL PROTECTED], [EMAIL PROTECTED], [EMAIL PROTECTED], [EMAIL PROTECTED], [EMAIL
News, several Houston and Nationally based Television News organizations, the Conroe Courier and several Radio Stations based in Montgomery County, Texas. The source of these News Releases has been the ongoing Activism and Litigation being waged by Mr. Judson Witham in Federal District Court, St
-Caveat Lector- Begin forwarded message:From: judson witham [EMAIL PROTECTED]Date: August 24, 2006 8:28:54 AM PDTTo: [EMAIL PROTECTED]Cc: [EMAIL PROTECTED], [EMAIL PROTECTED], Frank Lawrence [EMAIL PROTECTED], [EMAIL PROTECTED], [EMAIL PROTECTED], Cathy Garger [EMAIL PROTECTED], Purple [EMAIL
n Bolles and what he found is virtually mirrored in Texas. Search COLONIAS Brian, the reported COLONIAS (Illegal Subdivisions) are the tip of the Great Texas Bank Job. I have been having my site postings virtually immediately KNOCKED DOWN. Judson Witham –part1_0.66a0bb62.25378c96_boundary Conte